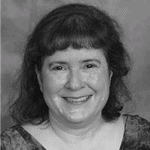 Mrs. Tijerina is a senior Microsoft Access Developer and Business Analyst with Help4Access in Chicago, Illinois, with more than 25 years of experience in developing automated solutions to streamline business processes.
Mrs. Tijerina has developed and supported many applications during her career, and approaches all projects mindful of cost-effectiveness, data integrity and user-friendliness. Whether she is building an application from scratch or improving upon an existing application, she focuses on implementing solutions to reduce time and cost for clients. Helene has worked on projects for small, mid-size and Fortune 500 companies including Registration Technologies, Heads Up Apparel, Crossroad Construction, WellPoint, Thomson, Medrad, Oce and Atlas Material Testing Solutions.
Specialties
Access Application Development

Customer Relationship Management (CRM)

Business Process Automation

Data Migration from Legacy Systems and Data Cleansing

End-User Training and Support

Technical and User Documentation

Customer Service
Experience
Developed a template application utilizing VBA to create a new database for each convention / event, centralizing and standardizing all functionality and code – replacing the old procedure of maintaining complex code in various applications for numerous events.

Automated the complete ordering and processing procedure for a custom apparel shop – from the initial order to automated packing slips for finished custom items. Orders are now aggregated from client schools instead of having to manually tally the materials needed across multiple spreadsheets. Minimized errors and streamlined processes for custom production department.

Developed an application to centralize all administrative functions of a construction company: payroll, track labor costs, project tracking & development, quoting, reports, form letters, etc.

Wrote SQL queries to clean and standardize data coming in from legacy systems and automate import process into new system through VBA.

Designed several MS Access applications (WellPoint, Thomson/NetG, Medrad, Oce) to compliment company CRM systems by automating the cumbersome administrative tasks associated with DBA maintenance.

Lead on system upgrades and improvements from planning through deployment through the creation of checklists, standardized test plans and case scenarios.

Created and delivered a new user training curriculum.

Developed and maintained communication with end users (600+). Authored "Release Notes", "Tips & Tricks" and "Top 5 Q&A" (weekly) to re-establish and maintain user support for CRM system.

Database administration and high volume end-user support.

Report design (including calculations or mail merge functionality).

Converted legacy databases to MS Access, re-designed database to add new functionality to track and provide statistical analysis reports for customer equipment maintenance.
Education
Mrs. Tijerina has a bachelor's degree in Computer Information Systems from DeVry Institute of Technology in Chicago, Illinois
To work with Mrs. Tijerina or any of our professional MS access developers, please contact us today.