The prevalence of remote work setups brought about by the COVID-19 pandemic has forced companies to implement digital transformations to make their remote workflows seamless and secure. This transformation includes automating document management, including e-signatures.
The leading e-signature platform is DocuSign. It boasts  many features, including ease of use, cost savings, security, and convenience.
One contractor thought that this would be a perfect tool, if only there was a way to integrate it with their MS Office-based business systems. Fortunately, Help4Access found a way!
Help4Access provides affordable, database-driven business applications and services. It has created solutions for some of the biggest companies in the world, such as Wells Fargo,  Hewlett-Packard, and Google, as well as many smaller pre-IPO start-ups .
Here's how a team of office automation and integration tools experts from Help4Access helped a contractor struggling with their digital transformation.
The Problem
A contractor was sending out dozens of contracts a day to the company's customers – all PDFs that had to be manually signed and returned.
The firm knew about the convenience of DocuSign.com's automatic, web-based eSignature™ system, but had no way to integrate it with their existing MS Office-based business systems.  Using DocuSign would require so much manual work preparing the documents and loading them to DocuSign's website that it just was not operationally efficient.
No commercially available product filled the bill. 
Meanwhile, a huge quantity of clerical labor and money was being wasted handling paperwork.  Worse, the firm's customers insisted on a web-based solution, which their competitors were  already offering.
Our Solution
Help4Access developed an integration between the firm's existing systems and DocuSign's website.  The solution used Visual Basic for Applications (VBA) and a proprietary Visual Basic DLL.
Without any manual intervention, PDF contracts are now automatically delivered for signing via DocuSign, and the resulting signed contracts automatically flow back to the firm.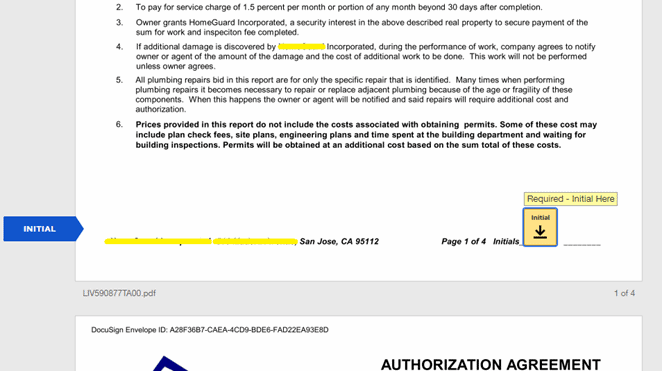 Problem solved!
The firm's existing contracts did not have to be changed for all this to work. The resulting system is flexible, can handle many kinds of contracts, and can be adapted as the firm's contracts change over time.
DocuSign is a powerful tool. It can handle a vast variety of document processing tasks, but you have to get your documents into their system in the first place – and that is what we provided.
We can integrate DocuSign's services with all the following applications:
MS Access
MS Excel
MS Word
MS PowerPoint
Rich-Text Files
Adobe Acrobat Files
Other RMBMSs such as Oracle, MySQL, Microsoft SQL Server, PostgreSQL, SQLite or MariaDB.
Unstructured data such as video
We can also build a dynamic link library (DLL) that can use MS Office as a bridge between DocuSign and other non-MS Office applications in order to integrate DocuSign with the latter.
Workplace automation and system integration will continue to be a trend in coming years with the increasing demands for operational resiliency from the business side and for better work arrangements from the workforce side. Your business can easily get left behind if you encounter automation and integration difficulties.
Click here to learn how Help4Access can help, or book a free consultation here.
We offer custom business application development, technical support, and cloud hosting.
Please find information on our enterprise support services here.