Logical View – Diagram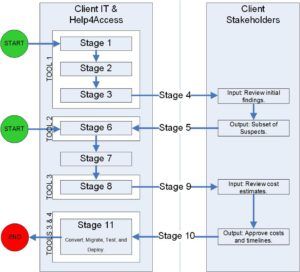 This strategy offers a comprehensive solution that any size organization can leverage to reduce its risk of critical business function failure due to loss of support on legacy Microsoft Access applications.
If an organization has already identified its high-risk suspects, then it can move right into Stage 6 and start developing cost estimates. Otherwise, the protocol can start being applied at Stage 1 for organizations which need a full discovery to identify potential risks.